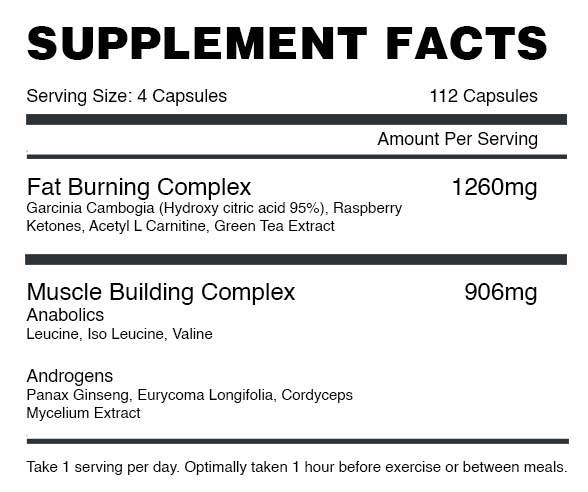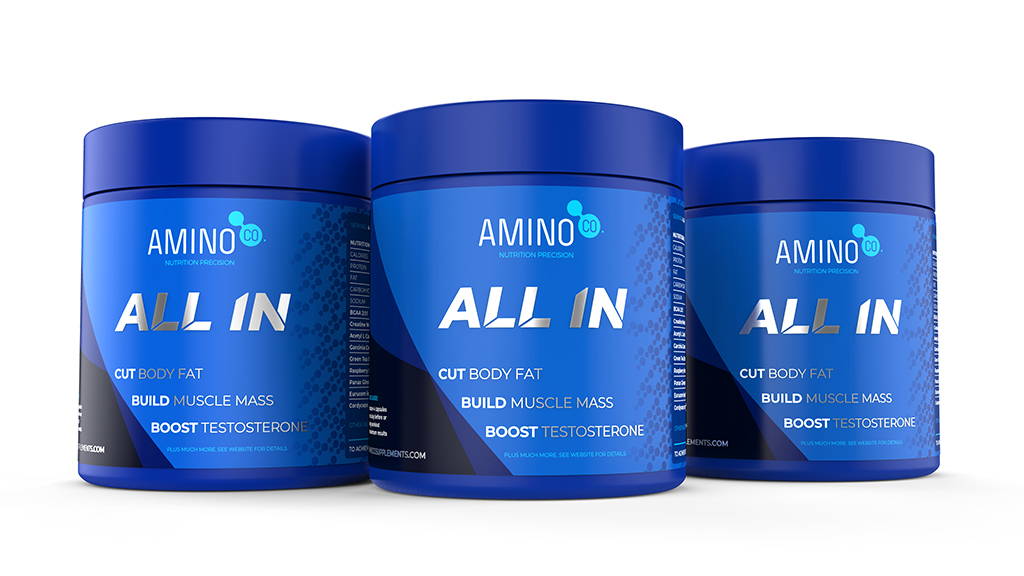 EXPERIENCE RAPID RESULTS
FEEL THE DIFFERENCE
Amino Co. All In is the ultimate all-in-one formula to help your burn body fat, build muscle mass and tone an impressive physique.
PROVEN TO INCREASE FAT BURNING 310%
BUILD MUSCLE TISSUE 250% FASTER
BOOST TESTOSTERONE LEVELS
ARE YOU TIRED OF NOT GETTING THE RESULTS YOU WANT?
STOP TAKING WEAK ONE DIMENSIONAL SUPPLEMENTS THAT WON'T GET YOU RESULTS.

TO GET ACTUAL RESULTS START TAKING THE ULTIMATE ALL-IN-ONE FORMULA...
ONLY AVAILABLE HERE AT AMINOCOSUPPLEMENTS.COM
"Many athletes use dietary supplements as part of their regular training or competition routine, including about 85% of elite track and field athletes." --PubMed.gov
Don't be at a disadvantage by not taking advantage of the proprietary Amino Co. formula that has created thousands of customer success stories to date. All In allows you to crush your body transformation goals with a combination of four of the most effective fat burning ingredients and four of the most powerful muscle builders that work in conjunction with three potent test boosters.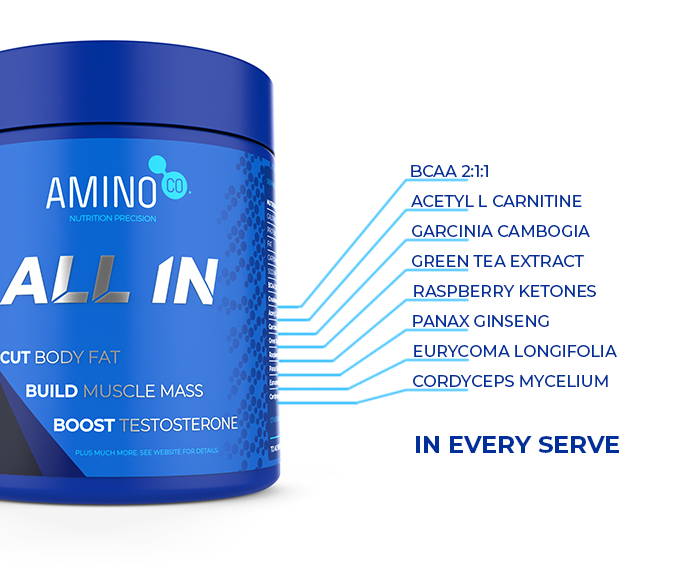 INTENSE FAT-BURNER
WITHOUT SACRIFICING MUSCLE MASS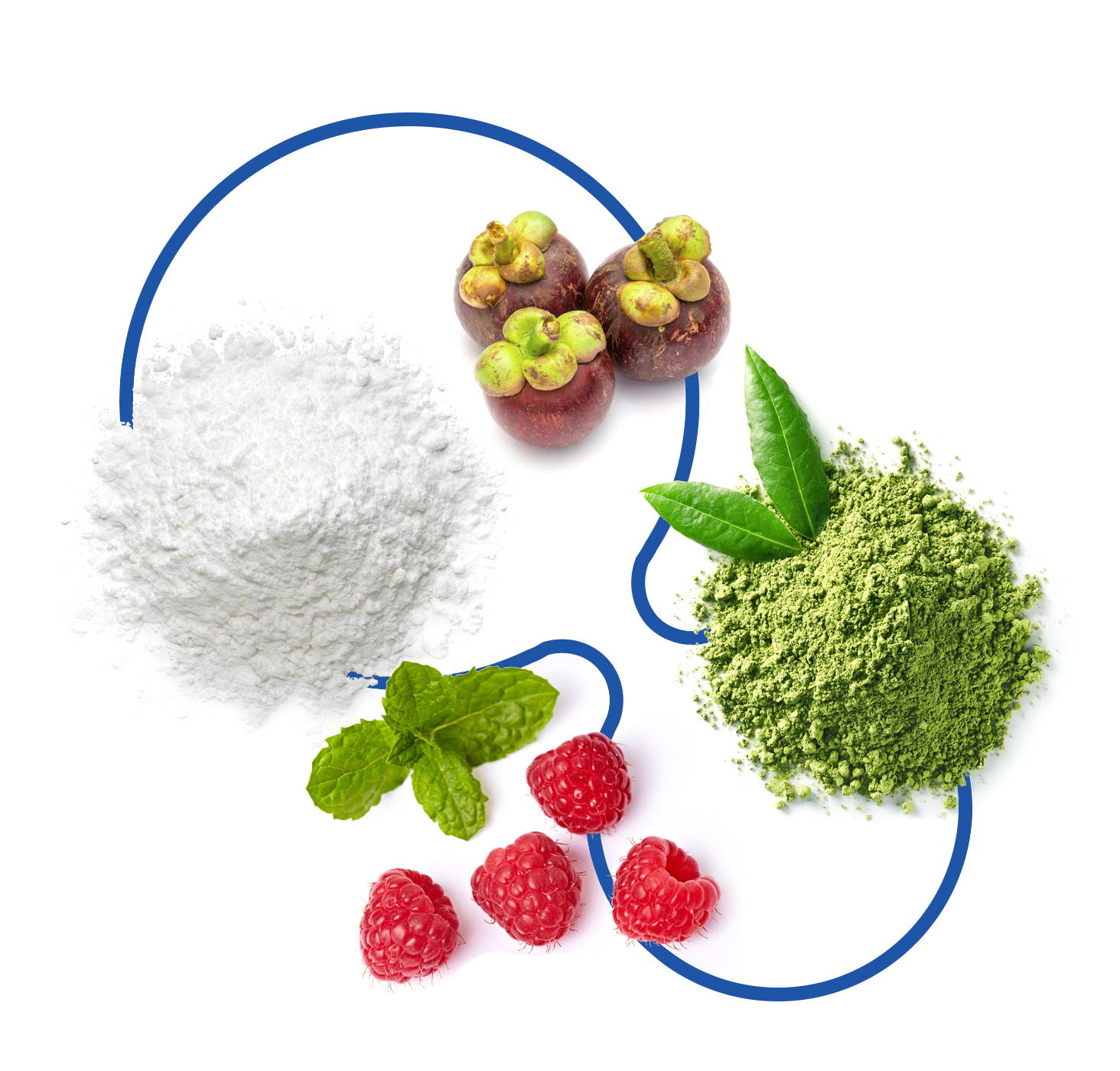 FAT BURNER COMPLEX
GARCINIA CAMBOGIA, ACETYL L CARNITINE, RASPBERRY KETONES, GREEN TEA EXTRACT
Blocks fat gain:
Block excess carbohydrates from turning into fat and burn it as energy instead.
Stimulates the secretion of adiponectin:
Adiponectin is a protein created by fat cells to help break down fat, regulate sugar levels and boost metabolism.
Mobilizes fat cells:


Allow the release of stored body fat into the blood stream to be used as energy.

Thermo blasts fat away:


Thermogenic properties cause your body to burn calories effortlessly.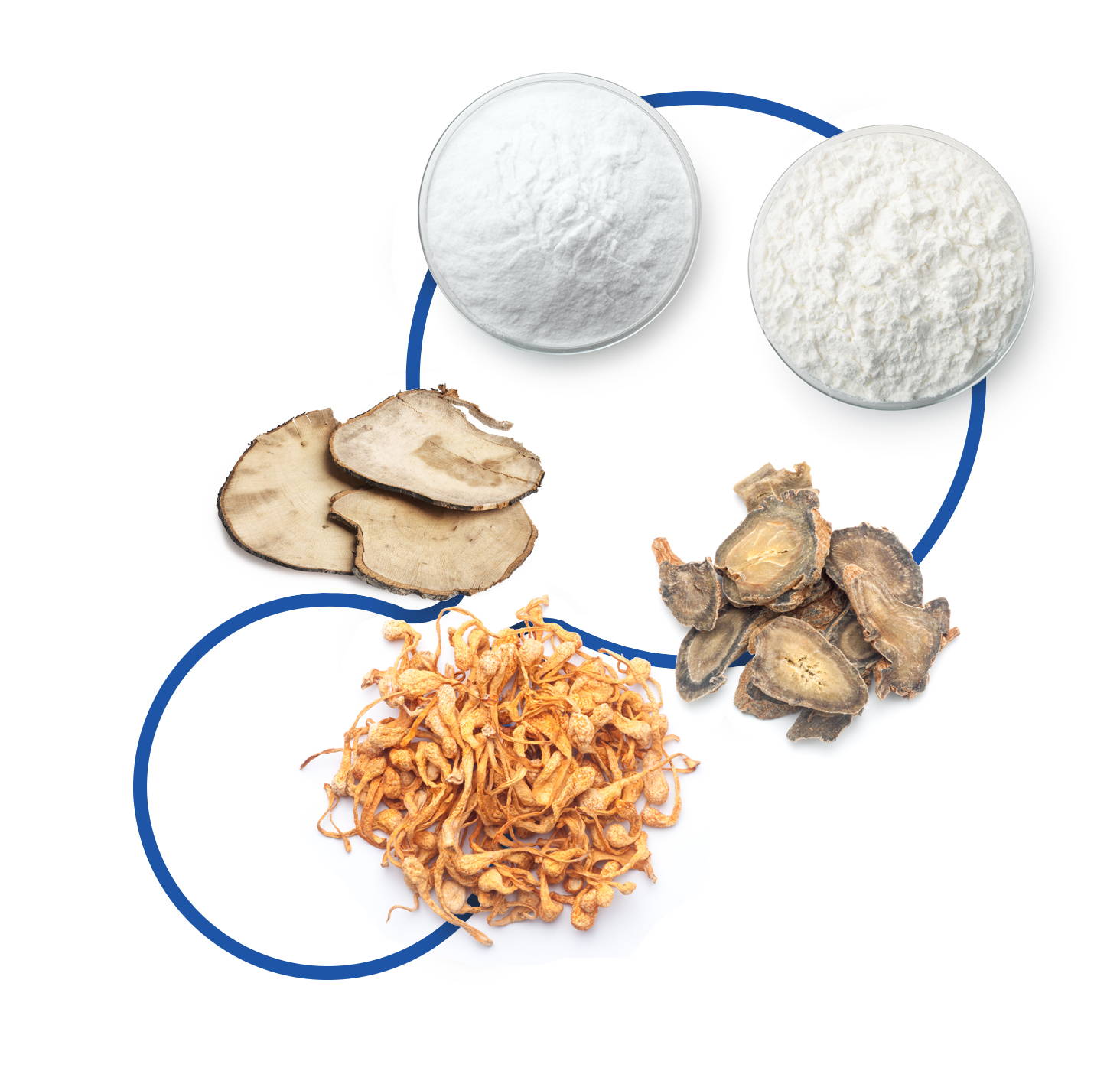 MUSCLE BUILDING COMPLEX
LEUCINE, ISO LEUCINE, VALINE, CREATINE
+
PANAX GINSENG, EURYCOMA LONGIFOLIA, CORDYCEPS MYCELIUM
Build lean muscle tissue:
Instantly absorbed into your muscles to repair and generate new muscle tissue.
Make the most of every workout:
Increased levels of adenosine triphosphate (ATP) allows your muscles to exert more power, lift more and increase results exponentially.
Burn fat without sacrificing muscle mass:


Prevent muscles from wasting away (catabolism) with these highly anti-catabolic ingredients even in calorie deficit when dieting.

Increase muscle synthesis:
Muscle synthesis is a natural process where muscle tissue is repaired and built after intense exercise. Our complex invigorates this process.


Boost test levels


As you probably know testosterone is the most important hormone in the male body for lean muscle gains and overall mens health. Our complex naturally stimulates the production of this hormone.
ADVANCED SUPPLEMENT
TECHNOLOGY
7 YEARS IN DEVELOPMENT
ALL IN contains an advanced formula of 9 of the most effective research backed supplement ingredients available today. ALL IN was formulated over 7 years of research and development to be the ultimate All-In-One body transformation supplement.
STACKED EFFICACY
Each ingredient by itself is considered to be an effective supplement... But when combined they work in conjuction together to form a highly efficient formula that drives fast body recomposition results.
ADVANCED FORMULATION
This revolutionary supplement is changing the game of the supplement industry. With the most effective ratios and dosages of precise ingredients that unlock several mechanisms of effect. Improving on traditional one dimensional blends that fail to help you achieve your ideal body.
HIGHEST GRADE INGREDIENTS
Every batch of the highest grade ingredients used in All In is third party tested to assure quality and efficacy.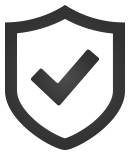 SATISFACTION WITH YOUR RESULTS
OR YOUR MONEY BACK.
Your order is backed by our Zero-Risk, complete satisfaction with your results, 90-Day Money Back Guarantee.
SAVE UP TO 50% TODAY ONLY!
+Plus get a FREE AMINO CO.
Life-Time Loyalty Card valued at $200

+Plus fast and free shipping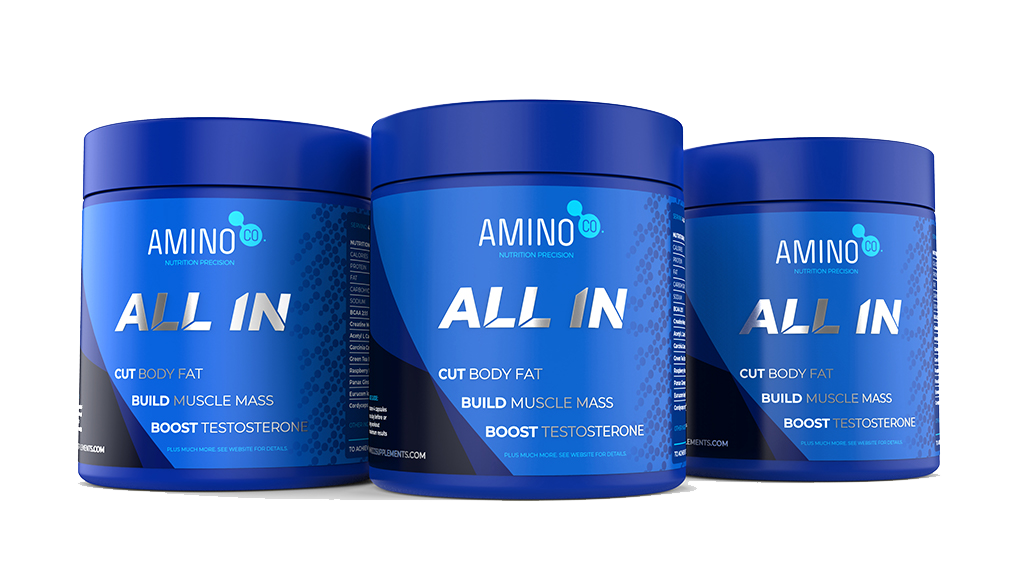 ---
ALL IN is for men who want to burn body fat, build lean muscle mass and tone and impressive physique.
For men who struggle to get the most out of their workouts and have a hard time achieving the results they desire.
And for those who want more energy, better mental focus and more motivation before and during workouts.
All In has thousands of customer success stories to date. Get started today and join the movement!
Easy! To get all the benefits of All In it takes less than 30 seconds per day.
Simply take 4 capsules and wash them down with water.
HOW LONG DOES IT TAKE TO SEE RESULTS USING ALL IN?
Typically, customers start reporting a difference within the first two weeks…
This is mostly a result of muscle hydration which makes your muscle appear larger and reduced water weight which will give your body a more lean appearance.

We recommend taking consistently for 90-180 days to experience optimal results and ensure that you reach and maintain your desired body weight and muscle mass.
WHAT ARE THE TERMS OF THE GUARANTEE?
ALL IN is covered by a 90 Day, 100% Money Back Guarantee.
That means that after you've received All In…
You have a 3 whole months to decide if it's right for you.
If you're like the thousands of people who already take All In regularly…
You'll be thrilled by the results you see.
But if you're not happy for any reason…
Simply email the Amino Co. customer service team at any time…
And you'll get a full refund of your investment with no questions asked.
OKAY, I'M EXCITED TO TRY ALL IN. HOW DO I ORDER?
This part is easy!
Just tap the "Add To Cart" button for the amount of bottles you want to buy...
Then complete your order with our secure checkout.
After that your supply of All In will be dispatched to you with a tracked mail service and your tracking number will be e-mailed to you within 24 hours of dispatch.
Plus there is 100% money back guarantee if you are not completely happy with your results!
So, go ahead and order now…
And we look forward to hearing about your results with All In.